Amizmiz, Morocco - Just weeks ago, Abdessamad Elgzouli earned a living introducing tourists to the rugged beauty of Morocco's High Atlas Mountains and the ethnic Amazigh, or Berbers, who live here.
Today, Elgzouli has a new vocation: organizing a tent camp in the town of Amizmiz, for hundreds left homeless by this month's earthquake.
'For me, the past is gone,' Elgzouli said as he surveyed his home, deeply fissured but still standing. 'I live for today.'
Embed share Tourism Another Casualty of Morocco's Earthquake Embed share The code has been copied to your clipboard. width px height px
No media source currently available
The 6.8 magnitude quake on September 8 killed nearly 3,000 people, flattened whole mountain villages and demolished schools, hospitals and homes in the five provinces hardest hit. In a matter of seconds, it also wiped out a flourishing tourist economy that amounted to a windfall for this poor and underdeveloped slice of Morocco.
Now, the region faces the difficult job of rebuilding as winter looms, and harsh weather promises to complicate recovery - and intensify hardship for thousands of Moroccans living in tents perched high in the mountains.
While the government has pledged $11.7 billion to help more than 4 million earthquake-affected people rebuild, experts suggest the fallout could be steep. Earlier this month, the U.S. Geological Survey estimated the quake - exacerbating a broader economic contraction - could cost Morocco up to 8% of its GDP this year.
The tent camp that tour guide Abdessamad Elgzouli helped establish in the town of Amiziz for people left homeless by the Sept. 8, 2023, earthquake in Morocco.
The quake also has taken on a political edge, as the Moroccan government accepted aid from only a few countries, declining offers from regional rival Algeria and former colonial power France. Critics suggest authorities were slow to respond.
Morocco's king, Mohammed VI, was in Paris when the quake struck. Only a few days later did he visit a hospital in the nearby city of Marrakesh, which was damaged by the quake.
Authorities rebut the criticism, and Moroccans interviewed expressed pride in the king and their country's response. They point to the mountains of clothes, blankets, food and medications donated by citizens across the country, and in the diaspora.
War zone
'This is the way Moroccans have always been,' said Anis Beri, an economics student from the northern city of Meknes, who came to the High Atlas region to join the earthquake response.
Nearby, half a dozen men tossed donated rugs and mattresses from a large truck into a barbed-wire enclosure. The bedding would later be transported up narrow mountain roads to quake-affected villages, where many homes are now rubble.
Moroccan volunteers hand out socks to children in one of the area's impacted by the earthquake that hit the country on Sept. 8, killing nearly 3,000 people and destroying homes, hospitals and schools.
Fruit and vegetable seller Abdeslam Stuti flashed a peace sign at a picture of the king, plastered on one side of a truck.
'We came with eight trucks full of everything people need,' he said, describing a 900-kilometer journey from Morocco's northern coast to support earthquake survivors. He praised the police and gendarmes for providing logistics and escorts along the way.
Bigger challenges lie ahead.
Amizmiz - a jumping off point for mountain tourist treks - looks like a war zone. Residents pick their way through piles of rubble that pockmark many streets. On one, the pink shell of a coffee shop is bent skyward. But a honey store up the road is intact, bees buzzing over golden pots once sold to locals and tourists alike.
The Al-Haouz province where Amizmiz sits, the epicenter of the quake, counts among the 15 poorest in the country. In a region where subsistence agriculture remains a top source of income - and homes are still built with clay bricks - tourism has been a boon.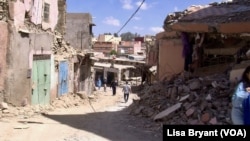 Amizmiz, Morocco, a small town approximately 55 miles south of Marrakesh, was destroyed in the earthquake that struck on Sept. 8, 2023. Amizmiz is the jumping off point for mountain tourist treks that had created jobs in the impoverished region.
'Tourism was helping this area to develop,' tour guide Elgzouli said. 'It's been good business.'
Then came COVID-19. Amizmiz craftsman Ahmed Lawza, who sells silver-decorated furniture and mirrors to tourists, was forced to close shop. He worked in marble quarries to make ends meet. Since the earthquake, he said, 'work has stopped again.'
Tough times ahead
'The impact is going to be big - enormous,' predicted Bruno Dubois-Roquebert, the owner of Maroc Lodge, a boutique hotel in Amizmiz, of the economic toll. 'For [a] certain period of time there will be no tourists. It will take some time before they come back.'
The quake damaged or destroyed many area hotels. But Maroc Lodge escaped intact. Dubois-Roquebert, a Frenchman who was born and raised in Morocco, credits sound building.
Maroc Lodge owner Bruno Dubois-Roquebert, left, with one of his staff. His hotel and employees were spared damage from the earthquake that struck Morocco on Sept. 8, 2023.
On a recent day, he and friends loaded vehicles and navigated steep hairpin turns to donate bedding to families of staff living in a remote mountain hamlet.
'They have everything they need for the short term,' he said. 'But we must not abandon these people. Because tomorrow is going to be very hard.'
A mountain village destroyed by the earthquake that hit Morocco on Sept. 8, 2023
Tour guide Elgzouli shares that sentiment. He and his family sleep outside, fearful of aftershocks. Soon after the quake, he began organizing the sprawling tent camp, which sits across from his house. Friends and clients have contacted him, offering support.
'People need me. I'm doing my best to help,' he said.
Elgzouli is thankful his family is alive ... and for another gift.
The earthquake that struck late on a Friday night knocked out the neighborhood's power.
'For the first time here,' he said, 'I saw the stars.'